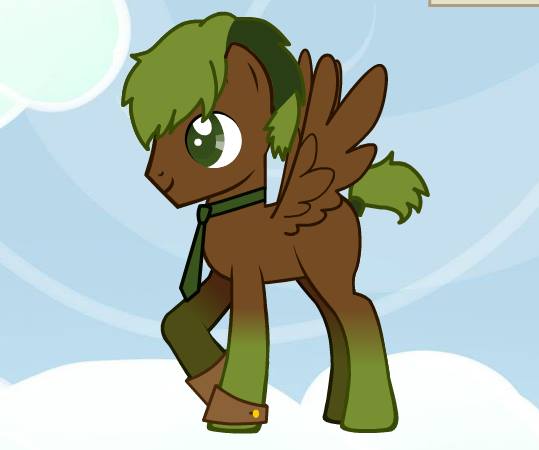 Earthen Moss (Mosscow)
Gender: Boy
Species: Pegasus
Mane: Ruffled faded green and dark green hair
Tail: Short ruffled faded green tail
Cutie Mark: Mossy Tree
Eyes: Dark olive green, no pupils
Age: 19
Personality: Mosscow is very calm and patient (given that he sometimes has to put up with Hallow). He loves going on adventures with Hallow and her friend Spring. He also tends to be random and speaks what is on his mind. However, he is quite clumsy and enjoys making others laugh.
Likes: Going on adventures with his really close friend, Hallows Eve along with Spring Breeze, swimming, going on walks in the forest. He also enjoys playing video games, card games, and board games. He is also very knowledgeable about plants and their species.
Dislikes: Mosscow doesn't enjoy serious situations or being in arguments. He avoids confrontation and tends to avoid any ponies involved in any drama. He also dislikes a myriad of questions, especially the color question.
History: Mosscow was born and grew up in the tallest hollowed out weeping willow tree in Equestria. His parents raised him there and soon passed away. Mosscows mother passed away because of cancer and his father passed away years later due to heart disease. He lives in the hollowed out tree alone as an orphan. Mosscow grew up with Hallow, seeing that she was alone just like him. The only thing that was different was that she was made fun of because of her markings and color.
The cutie mark is a remarkable story. After his parents passed away, he was so upset that he ran off into the forest until he came into a clearing with dying plants. Feeling sorry for the plants, he chose to tend to the plants, getting rid of the dead parts and caring for them. As he grew up, the plants began to thrive once again, growing so big that they were twice the size of their usual height. He then discovered his cutie mark, a mossy tree, showing his care and compassion for nature.